When writing about one of my favorite girls, words have flowed pretty easily for me, but not today. You see, my little PiperGirl has gone to the Rainbow Bridge. She was so brave, so beautiful, so caring and loving all the way to the end. But the pain was too much for her, I knew it, and she knew it. I didn't want to let my baby go, but I knew she needed to, and my heart is broken
Last night, as I walked around my home, it felt empty, quiet. I begin to recall all the memories I have of my little girl, and I realized all the gifts she has given me these last 12 years. She taught me about true happiness, she taught me of unconditional love, she taught me how to be a kid again, to be a good parent, and how to live in the moment. She was truly the most special being in the world.
Piper, you were so much a part of our lives, and although I miss you terribly and a piece of my heart is missing, I know you are always with us, that you watching over us. I knew last night when the snow began to fall that you sent it us, because playing in the snow was one of your favorite things to do.  I miss you my sweet P, rest in peace.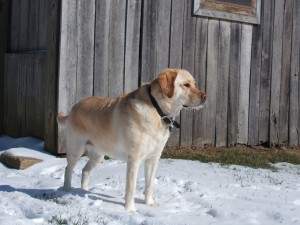 Piper Cub
January 22, 2000 – February 11, 2012
I want to Thank everyone for all your support and love these last few months. You made an unbearable situation easier, and I will always be grateful.